(SL) – It was all good 10 months ago. Donald Trump hasn't been in office a year but has managed to tweet the United States to the brink of Nuclear War with North Korea.
How likely is WW III? A general consensus is that Trump's statements are just bluster, although many emphasize the fact that bluster has an unfortunate history of leading to war.
The new escalation is the latest in an ongoing ratcheting up of tensions between Pyongyang and Washington, and came after a report that claimed North Korea had developed nuclear weapons small enough that they could be flown all the way to the US mainland and detonated there.
Trump threatened Fire and Fury like no other if North Korea stepped to the U.S. or any of its allies, but then he refreshed his threat on twitter writing that the U.S. military is "locked and loaded" and ready to take action against the isolated country if it continues to "act unwisely."
"Hopefully Kim Jong Un will find another path!" Trump said in provocative comments directed at the leader of a nation that, in open defiance of the United Nations, has been developing nuclear weapons capable of reaching the United States.
The Washington Post went on to report, as Trump continued his bellicose rhetoric — a tactic criticized by some U.S. leaders and allies — North Korea kept up its verbal salvos, as well. A commentary in a state-run newspaper said that the "U.S. military warmongers are running amok" and warned that "the U.S. and its vassal forces will dearly pay for the harshest sanctions and pressure and reckless military provocations."
Trump claims that he is backed by everybody but that's not true.  The Washington Post reports, German Chancellor Angela Merkel cautioned that "verbal escalation" may be the wrong response to the crisis.
https://www.washingtonpost.com/video/c/embed/4252328e-7dfd-11e7-b2b1-aeba62854dfa
As for Russia, Foreign Minister Sergei Lavrov says, "We don't accept a nuclear-powered North Korea," in response to questions at a youth forum, but he added that the United States should take the first step away from conflict.
"I believe when it actually comes to a fight, the one that is stronger and smarter should take the first step away from the dangerous line," Lavrov said.
An editorial in China's state-run Global Times said that Beijing should "prevent" the United States and South Korea from carrying out an attack designed to overthrow the North Korean government but that China should "stay neutral" in the event of a North Korean attack and U.S. retaliation
The threats by Trump come as North Korea has stepped up its threats against the United States, including warning of a potential missile launch landing near the U.S. territory of Guam.
Later Friday morning, Trump retweeted images from the U.S. Pacific Command that showed two Air Force B-1B bombers that it said had joined counterparts from the South Korean and Japanese air forces in the region.
The command's tweet included the hashtag #FightTonight, more of a signal of its readiness to fight if needed than a sign it is spoiling for a battle within days. The Air Force has kept bombers on Guam for years, and the Pentagon and U.S. Forces Korea have long used the "fight tonight" motto in South Korea to reflect the seriousness of their mission.
Why Guam?  The Independent sums it up best saying, It has been a significant military outpost for America since he Second World War and reportedly holds around 6,000 troops, the Anderson Air Force Base and the Naval Base Guam. The island is referred to by military commanders as their "permanent aircraft carrier".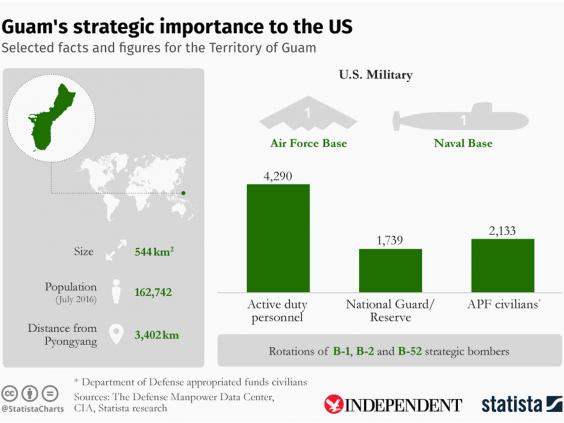 The military bases have rotations of B-1, B-2 and B-52 strategic bombers, as seen in the above graphic, created for The Independent by statistics agency Statista, and include a submarine squadron.
It is also armed with a defense system that can intercept missiles, known as the Terminal High Altitude Area Defense (THAAD).
Trump Trying To Be Truman?
Continue reading Guam On Standby As Kim Jong Un Continues Threats And Trump's Bellicosity Escalates Nuclear Tensions →