(SL) – It was all good 10 months ago. Donald Trump hasn't been in office a year but has managed to tweet the United States to the brink of Nuclear War with North Korea.
How likely is WW III? A general consensus is that Trump's statements are just bluster, although many emphasize the fact that bluster has an unfortunate history of leading to war.
The new escalation is the latest in an ongoing ratcheting up of tensions between Pyongyang and Washington, and came after a report that claimed North Korea had developed nuclear weapons small enough that they could be flown all the way to the US mainland and detonated there.
Trump threatened Fire and Fury like no other if North Korea stepped to the U.S. or any of its allies, but then he refreshed his threat on twitter writing that the U.S. military is "locked and loaded" and ready to take action against the isolated country if it continues to "act unwisely."
"Hopefully Kim Jong Un will find another path!" Trump said in provocative comments directed at the leader of a nation that, in open defiance of the United Nations, has been developing nuclear weapons capable of reaching the United States.
The Washington Post went on to report, as Trump continued his bellicose rhetoric — a tactic criticized by some U.S. leaders and allies — North Korea kept up its verbal salvos, as well. A commentary in a state-run newspaper said that the "U.S. military warmongers are running amok" and warned that "the U.S. and its vassal forces will dearly pay for the harshest sanctions and pressure and reckless military provocations."
Trump claims that he is backed by everybody but that's not true.  The Washington Post reports, German Chancellor Angela Merkel cautioned that "verbal escalation" may be the wrong response to the crisis.
https://www.washingtonpost.com/video/c/embed/4252328e-7dfd-11e7-b2b1-aeba62854dfa
As for Russia, Foreign Minister Sergei Lavrov says, "We don't accept a nuclear-powered North Korea," in response to questions at a youth forum, but he added that the United States should take the first step away from conflict.
"I believe when it actually comes to a fight, the one that is stronger and smarter should take the first step away from the dangerous line," Lavrov said.
An editorial in China's state-run Global Times said that Beijing should "prevent" the United States and South Korea from carrying out an attack designed to overthrow the North Korean government but that China should "stay neutral" in the event of a North Korean attack and U.S. retaliation
The threats by Trump come as North Korea has stepped up its threats against the United States, including warning of a potential missile launch landing near the U.S. territory of Guam.
Later Friday morning, Trump retweeted images from the U.S. Pacific Command that showed two Air Force B-1B bombers that it said had joined counterparts from the South Korean and Japanese air forces in the region.
The command's tweet included the hashtag #FightTonight, more of a signal of its readiness to fight if needed than a sign it is spoiling for a battle within days. The Air Force has kept bombers on Guam for years, and the Pentagon and U.S. Forces Korea have long used the "fight tonight" motto in South Korea to reflect the seriousness of their mission.
Why Guam?  The Independent sums it up best saying, It has been a significant military outpost for America since he Second World War and reportedly holds around 6,000 troops, the Anderson Air Force Base and the Naval Base Guam. The island is referred to by military commanders as their "permanent aircraft carrier".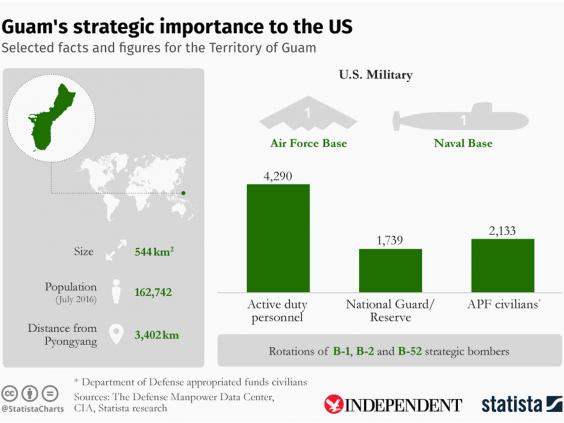 The military bases have rotations of B-1, B-2 and B-52 strategic bombers, as seen in the above graphic, created for The Independent by statistics agency Statista, and include a submarine squadron.
It is also armed with a defense system that can intercept missiles, known as the Terminal High Altitude Area Defense (THAAD).
Trump Trying To Be Truman?
They [North Korea] will be met with fire and fury like the world has never seen. He [Kim Jong-un] has been very threatening … and as I said they will be met with fire, fury and frankly power, the likes of which this world has never seen before. ~Trump~
It's all reminiscent to 1945, when President Harry Truman said to Japan in between dropping the nuclear bomb on Hiroshima and then launching another one on Nagasaki just three days later. Here's what Truman said on August 6, 1945:
If they do not now accept our terms, they may expect a rain of ruin from the air, the like of which has never been seen on this Earth. ~Truman~
The really frightening part about this is with Trump's complete refusal to learn about – or from history he has actually presided over the dismantling of the State Department.
Reportedly, right now the United States is lacking not only a direct channel to North Korea but also a U.S. ambassador to South Korea, a secretary of Asian Pacific affairs, and a secretary of East Asian affairs. So even if we wanted to negotiate an end to this standoff it would take the help of other nations. China and South Korea would be the best candidates.  And in fact the foreign minister of China is urging a decrease in the rhetoric on both sides of this conflict.
Somebody call Dennis Rodman!
How Guam is preparing residents
The website for Guam's Homeland Security Office of Civil Defense has been updated recently with a number of fact sheets detailing the emergency alert system and giving tips on what to do before, during and after an imminent missile threat.
One of the fliers, "preparing for an imminent missile threat," instructs readers to listen for official information and emergency guidance, take cover, stay inside and not to look at the flash or fireball if caught outside in order to avoid being blinded.
The site also redirects visitors to websites run by the Centers for Disease Control and federal government sites dedicated to building emergency supply kits, tips for sheltering in place and preparing their pets for disasters.
On Wednesday, the offices of Guam Homeland Security and Civil Defense released a statement saying that their military partners "continue to monitor the recent events surrounding North Korea and their threatening actions."
The statement went on to say that Guam's homeland security adviser George Charfauros "has not received any statement that there is an imminent threat."
Guam Gov. Eddie Calvo told Reuters Wednesday after that threat was made that he thinks that North Korea is operating from "a position of fear."
"At this point, based on what facts are known, there is no need to have any concern regards heightening the threat level," Calvo said.
Today, Calvo held a briefing during which he said the preparedness releases were published for "eventualities," emphasizing that life should carry on as usual.
"It's a weekend. Go out and have fun," Calvo said.
Hawaii's updated guidance on what to do in event of detonation
Another American island — Hawaii — recently updated its guidance on what to do in case of a nuclear detonation, posted July 21 on Hawaii Emergency Management Agency. The substance of the revision was not immediately clear.
The revised plan details how a siren will sound or emergency alert systems will notify people of a nuclear detonation in addition to the observation of a "brilliant white light (flash)."
From there, people are directed to get inside, stay inside and stay informed via radio stations or small portable walkie-talkies.
The plan notes that there are no designated blast or fallout shelters in Hawaii.
"You may have only minutes to take protective action — take immediate action without delay," the plan states.
The plan, which is on Hawaii State Department of Defense letterhead, is labeled as being revised on June 27. No motivation for the release or update was publicly disclosed on the Hawaii Emergency Management Agency.
ABC News reached out to the state's emergency management agency, but did not immediately get a response.
Ground-based interceptor system protects Alaska and continental U.S.
The ground-based interceptor system is in place to defend Alaska and the mainland United States against long-range missiles.
There are 32 ground-based interceptors at Fort Greely, Alaska, and an additional four at Vandenberg Air Force Base in California. The missiles have just over a 50-percent success rate in intercepting incoming long-range missiles in testing over the past decade.
"[The interceptor] would have a hard time protecting Hawaii, but it would protect Alaska and the mainland," ABC News Aviation Consultant Steve Ganyard, a retired Marine Corps colonel, said.
One problem, however, is that it "could not handle a barrage of 10 incoming missiles. It could pick off a few, but we're not there yet. It's too developmental a system," he added.
The emergency management office for Anchorage did not immediately respond to an ABC news request for comment.
The Alaska division of homeland security and emergency management does not have a specified nuclear preparedness plan and Anchorage, Alaska, takes an "all-hazards" approach which has also been adopted in cities like San Francisco and Los Angeles in California.
"During the 1980s the United States government transitioned from the old Civil Defense 'fallout shelter' model of the Cold War-era, to the FEMA 'All Hazards' approach used today," said Andrew Preis, the Emergency Programs Manager for Anchorage. "What that means to us here in Anchorage is the same preparedness activities undertaken for a large magnitude earthquake would also apply to a nuclear threat as well."
West Coast tells residents to heed general emergency plans
On the mainland, several population centers on the West Coast repurpose their emergency plans for other disasters, whether they be natural like earthquakes or tsunamis, or man-made like terrorism and a nuclear attack.
Washington state does not have a specified nuclear detonation plan, with much of the state's focus being paid to possible earthquakes or tsunamis given the fault lines there.
"A nuclear strike certainly presents unique challenges but the state has exercised for and prepared for a variety of disasters and many of our response capabilities would be useful following a nuclear event," said Karina Shagren, the spokesperson for the Washington Military Department.
Officials in both Los Angeles and San Francisco take an "all hazards" approach to emergency planning.
"The situation with North Korea has understandably caused concern about what might happen if a nuclear strike targeted and reached the Los Angeles area," said Kate Hutton, public information officer for the City of Los Angeles Emergency Management Department. "We continue to closely monitor this situation as well as all threats and hazards we might face in Los Angeles."
Seattle, Los Angeles and San Francisco, like most major metropolitan areas in the United States, have alert systems that residents can sign up for on their phones or via email.
"It's a very alarming possibility and it's concerning should something of this nature happen," Kate Hutton, the spokesperson for the San Francisco department of emergency management, told ABC News.